FREE SHIPPING ON ALL ORDERS (NO MINIMUM)!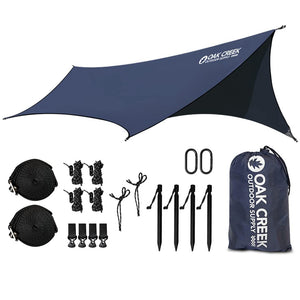 Oak Creek Hidden Summit Hammock Rain Fly. 11 x 7 ft HEX. 210T Poly Waterproof Camping Tarp. Carry Bag, Tree Straps, Carabiners, Drip Lines, Tensioners, Guy Lines, Ground Stakes. Weighs 1.5 lbs.
Durable and waterproof (3,000PU, 50+ UPF) constructed of quality 210T, 75gsm polyester with reinforced corners and stitching

11-foot L by 7-foot W HEX shape provides optimal protection from the elements

Quality tree straps, carabiners, guy lines, drip lines, tensioners and ground stakes included for easy and secure installation

Packs down in compact carry bag, weighing just 1 ½ pounds. Perfect for backpacking and all of your outdoor adventures
THE HIDDEN SUMMIT PRO RAIN FLY
By outdoor enthusiasts, for outdoor enthusiasts

Durable and Waterproof
This premium professional hammock and camping tarp is constructed of quality 210T, 75gsm Polyester with reinforced corners and stitching. It is fully waterproof with a 3,000PU rating and provides maximum 50+ UPF protection. Includes 2 quality tree straps, 2 carabiners, 2 drip lines, 4 guy lines, 4 tarp tensioners and 4 premium ground stakes for easy and secure installation.

Optimal Shape and Design
Our pro rainfly measures 11' L x 7' W with a hexagonal shape designed for all the protection needed from the elements without excess material and weight. Our pro tarp is a cool gray color and packs down in its own compact carry/storage and weighs only 1.5 lbs. Lightweight and easy to store or carry on your camping, hiking, backpacking, beach days and other outdoor activities.

The Oak Creek Promise
We are outdoor enthusiasts, just like you. We design camping and other lifestyle products that we want to use ourselves, and we think our consumers will too. We try hard to do the right thing. If we make a mistake, we own up to it. And if we make a promise, we take that promise very seriously. We promise to do everything we can to ensure that our customers are fully satisfied with their purchases!